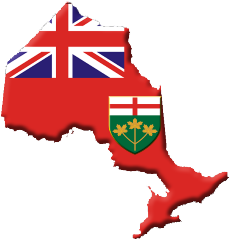 Ontario is a province of Canada located in the east-central part of Canada.It is the largest province by population and second largest in total area. It is home to Canada's most populous city, Toronto, the capital city of Ontario, and Ottawa, the national capital of Canada.
Toronto is at the heart of the Greater Toronto Area (GTA), and is part of a densely populated region in Southern Ontario known as the Golden Horseshoe, which is home to over 8.1 million residents—approximately 25% of Canada's population.
The economy of Ontario is a rich and diversified economy. Ontario is the largest economy in Canada, its GDP being nearly twice that of neighbouring Quebec, the second largest economy providing Canada's GDP with approximately 40% of the total GDP. The Ontarian economy is highly influenced, and run by the service sector, though manufacturing (50%+ of Canada) also plays an important role. Canada's main financial district and stock exchange is in Toronto, while the main info-tech industries of Canada are located in Ottawa and Waterloo.
Tags:
about
,
cities
,
economy
,
GTA
,
ontario